Dear HumanDHS Friends
Welcome to the international conference "Bodies in Motion. The Politics/Poetics of Movement and Stillness" Arranged by the Nordic network Gender, Body, Health
Time and place: The University of Oslo (UiO), Norway, from October 24th -26th, 2012
Keynote… Continue reading →
Forwarded message from Kamran Mofid following:
International and Intergenerational Conference
For Those Interested in Promoting Unity in Diversity
Education to Globalize the Human Mind
September 22-23, 2012
Keynote Presentations
Tom Mahon, Writer, Silicon Valley
Globalize our Theologies: In his… Continue reading
(message received via Anna Grear's DNHCR mailing list)

Te Piringa Faculty of Law, University of Waikato and the Global
Network for the Study of Human Rights and the Environment (GNHRE) are
delighted to invite you to attend a one day… Continue reading 
Dear HumanDHS Friends
Emne: European ICSD (International Consortium for Social Development) conference 6-8sept 2012
Dear Friends of ICSD!
We wish you all welcome to Bressanone, the intimate historical alpine village in South Tyrol this autumn. Please find the invitation to… Continue reading →
Dear HumanDHS Friends
International Academy of Law and Mental Health
Link to 2013 Congress information:
http://www.ialmh.org/template.cgi?content=Amsterdam2013/main.html
Thanks to Brenda Amezcua and George Woods(HumanDHS Advisory Board).
Dear HumanDHS Friends
Healing and Rebuilding Our Communities (HROC) in Burundi
http://www.acrgny.org/events?eventId=492523&EventViewMode=EventDetails
Adrien Niyongabo, who has dealt with unthinkable, cataclysmic events in his country, will speak to us of his experiences with the organization, Healing and Restoring Our Communities in… Continue reading →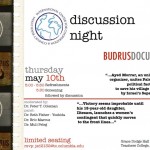 AMARC participates in panels and seminars on legislation and the right to communicate, obstacles to freedom of expression regarding the ownership, use and access.
May 2nd from 9h to 12h, Film Library/Cultural Center in La Moneda. Plaza de la Ciudadanía… Continue reading