Honor, Humiliation, and Terror:
Volume I of Humiliation and Terror – Defusing and Preventing an Explosive Mixture
by Evelin Lindner
2017

Foreword by Linda Hartling, Director of Human Dignity and Humiliation Studies

• available from Dignity Press directly
(Dignity Press is a not-for-profit publisher, with your purchase you support our work for dignity)
• available also from Amazon
• also as eBook (please contact Evelin to receive her Pdf file)

published by World Dignity University Press, an imprint of Dignity Press

ISBN:
Print version:
ePub version:

Publication Date: 2017
List price: X €, X USD, x LBP
X pages

Subjects: Extremism, polarization, radicalization, domination vs. partnership and cooperation, terror, terrorism, honor vs. dignity, anthropology, archaeology, psychology, history, cross-cultural studies

Videos
• Book presentation at Columbia University, Teachers College, Gottesman Libraries, room Russell 306, on December 7, 2016, 12.00 - 2pm. See the invitation, the invitation flyer, and the event in the Gottesman Libraries Calendar. Thank you, dear Talia Shafir for doing such nice video recording! (Please be aware that this is an unedited video). Thank you most warmly, dear Jennifer Govan, for making this talk possible! And another big thank-you for finding and creating our book cover!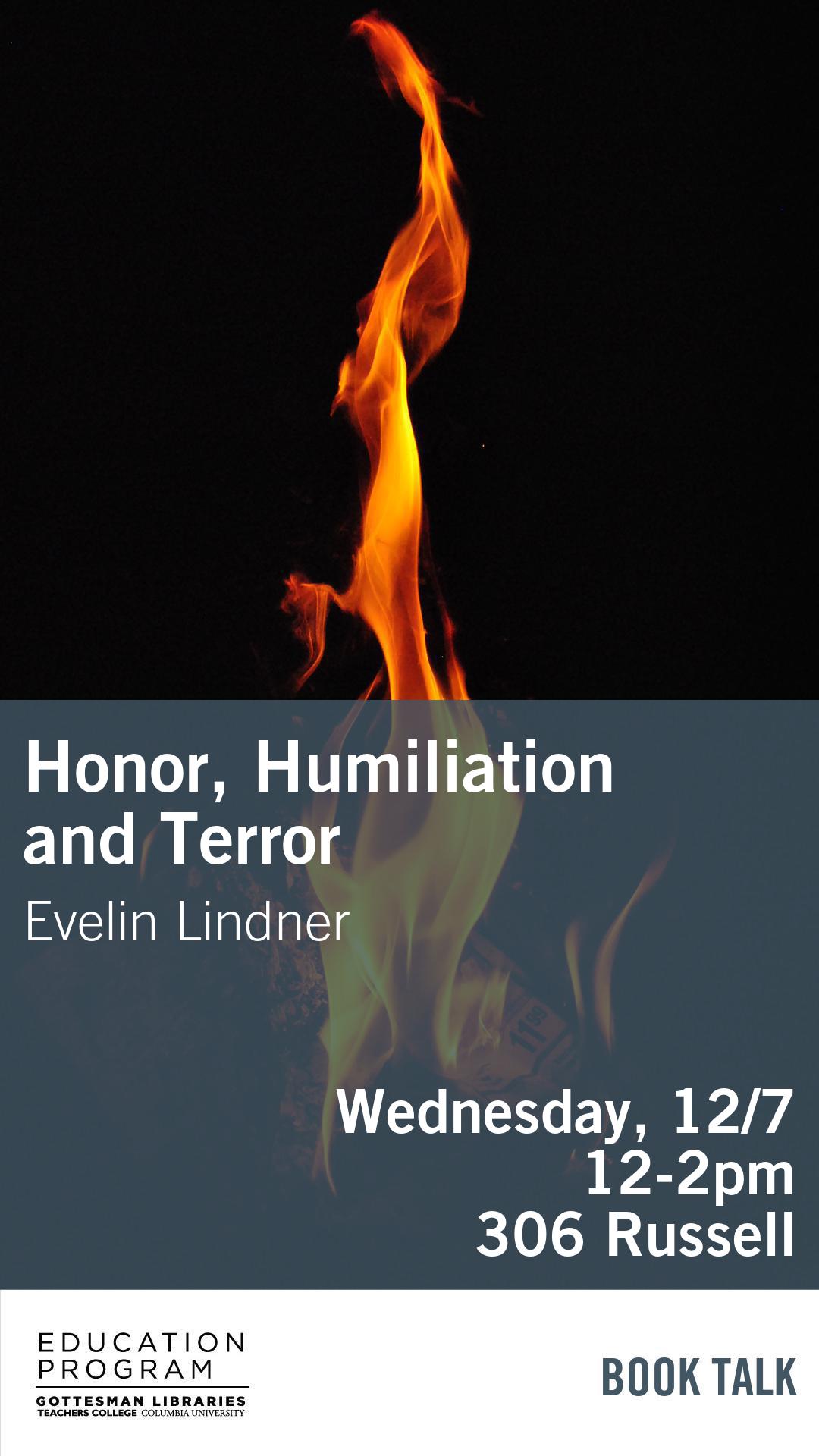 ---
• Endorsements
• Book Description
• Contents
• Foreword
• Comments, Reflections, and Reviews
• Pictures
---
Endorsements
---
Book Description
Violence, hatred, and terror are deeply intertwined with heroism, glory, and love. The past five percent of modern human history on planet Earth, roughly the past ten millennia, were characterized by competition for domination, where "might" became "right." In this context, a culture of honor spawned, in which destruction merged with love: "It is my duty, if I love my people, to heroically destroy our enemies and secure all resources for us." We, as humankind, have haphazardly constructed a world-system on top of this merger. The consequence, today, is the ubiquitous destruction of our social and ecological relationships. Terror and terrorism are intricate parts of the legacy of the past millennia, and only if we overcome this legacy, can we address the social and environmental crises of our time and the terror they produce. If "it takes a village to raise a child," then the global village fails this task up til now, and this is the most significant terror the world experiences now. This is the main message of this book.
---

Contents
Foreword by Linda Hartling, Director of Human Dignity and Humiliation Studies
Preface
Introduction

Part I: The Security Dilemma – Too Far Apart and Too Close Together
Introduction to Part One
Chapter 1: The dominator mindset – where does it come from?
Chapter 2: How spirituality fell prey to the security dilemma
Chapter 3: Also human nature and cultural diversity fell prey to the security dilemma
Chapter 4: The rise of the "art of domination"
Chapter 5: How pressure-cooker vents explode
Inspiring and thought-provoking questions

Part II: Honor Humiliation – The Duty to Retaliate
Introduction to Part Two
Chapter 6: Honor is like armor, and heroes are proud of their battle wounds
Chapter 7: The rise of the "art of humiliation"
Chapter 8: Humility remains indispensable
Chapter 9: Méconnaissance, or how one can damage one's own best interest
Chapter 10: How voluntary self-humiliation is possible
Chapter 11: How dominator economics terrorize
Inspiring and thought-provoking questions

Part III: Peace the Traditional Way – A Balance of Terror
Introduction to Part Three
Chapter 12: The security dilemma was inescapable
Chapter 13: Patriots deserve respect
Chapter 14: War for peace was all we once knew
Chapter 15: Maintaining a balance of terror is costly
Chapter 16: "Sow the wind and reap the whirlwind"
Chapter 17: How the terror of "war for peace" is still with us
Chapter 18: What now? Outlook into the future
Inspiring and thought-provoking questions 300 References 319

Notes
Index
References
---

Foreword by Linda Hartling
Are you prepared? Are you ready for the intellectual ride of your life? If you have this book in your hand you are well on your way to a global voyage of groundbreaking conceptualizations, a literary compass to a new world. Evelin Lindner is a modern day Magellan of thought, a Galileo of contemporary social science, a Michelangelo of human relations, and a Mandela of social transformation. This book is a realization of her lifelong expedition cultivating unbounded knowledge informed by global scholarship and direct connection to the lived experience of peoples of the world.
If you are ready to join in this journey, be prepared to think big. Lindner challenges us to look beyond the limits of conventional academic-institutional-corporate-nationalistic borders. This book is not written for those who restrict their studies to the silos of political think tanks or academic ivory towers. Rather, this is a book of deep transdisciplinary insight inspired by a visionary global community: world-renown philosophers, such as Arne Næss; conflict resolution scholars, such as Morton Deutsch; trailblazing pioneers in the study of humiliation, such as Donald Klein; revolutionary relational theorists in psychology, such as Jean Baker Miller; sociologists and economists of equality, such as S. Mike Miller; indigenous leaders and oral historians, such as Carmen Hetaraka; artists and poets, such as William Stafford and Francisco Gomes de Matos; and Nobel Peace Prize laureates, such as Berta von Suttner. Further, this book reflects Lindner's constant gardening of wisdom from countless quiet contributors who share their stories of struggle and resilience in the face of daily indignities and devastating disasters. Evelin Lindner organizes her whole life as a citizen of the world to bring us this globally informed treatise, a panoramic understanding of the risks humankind is facing in today's world.
At first glance, one might presume that it is a text about terrorism. Without question, Lindner offers indispensible insights to dismantle cycles of humiliation that can lead to terrorist acts. Yet this book is about something much bigger. It dares to delve into all forms of terror that hold humanity hostage to poisonous social practices, toxic corporate conduct, paralyzing political conflict, devastating aggression, and ecocidal practices and policies. Lindner doesn't rely on the timeworn tactics of polarizing people or vilifying individuals to draw attention to the urgency of her message. Instead, she empowers readers to understand the complex systemic conditions that have blinded us from creating new possibilities and solutions. She describes a promising future of mutually beneficial engagement and social arrangements that would help us save ourselves while saving others and the world.
Evelin Lindner and I began our lifelong conversation in 1999, after we both broke ground studying the impact of humiliation, a profoundly degrading experience that has largely been neglected in the literature until recently. Both of us, like others who join with us, have traveled to hell and back to learn the necessary lessons that compel our efforts to bring the benefits of equal dignity into every aspect of our life work. Both of us are firm in our belief in the basic goodness of human beings, a goodness that can get lost in the relentless fog of industrialized and institutionalized forms of modern-day humiliation and destructive conflict.
More than anything else, our research has taught us that there is no time to lose. We never stop talking about the urgency of preventing and repairing the pain of humiliation, what Lindner calls "a nuclear bomb of emotions." We never ought to stop talking about dignity as the path to local and global change for the better. We never should stop talking how all of us can work together to create the dignifying conditions that provide for the growth and participation of all people while we protect and replenish our planet.
Evelin Lindner's book serves as a universal affirmation for those who courageously strive to build bridges of equal dignity in their own lives and around the world. In addition, this book is a universal invitation to all who wish to do their part to replace cycles of humiliation and terror with dignifying dialogue. The world needs you now. Are you prepared?
Linda Hartling, Ph.D.
Director
Human Dignity and Humiliation Studies
November 3, 2016, Portland, Oregon, U.S.A
---
Comments, Reflections, and Reviews
Commenting the book launch of the book Honor, Humiliation, and Terror on December 7, 2016, at Teachers College
By Judit Révész, 22nd December 2016
Dearest Evelin,
Let me share an idea with you that I forgot to mention at your book launch on December 7th at Teachers College. I thought that in addition to having the book of Honor, Humiliation and Terror being published in either one or three books, perhaps it would be good to have short online publications in the format of a manifesto/proclamation. And yes, these could be both videos and or online publications.
This very complicated phenomenon would need to be described in such a way that everyone would feel that you are talking to them personally, perhaps using some of your examples. Since you were talking about that you want to radicalize everyone of us, I envisioned the stories to be told either in the second form or even more radical would be to use the dialogue or interview format. Then the question remains who would be invited and who would be willing to participate.
Either way, one message could be addressed to either to a perceived terrorist or a group and another one to the general public who would like to understand and do something about this complex situation.
Your ways of radicalization are very powerful. Sharing how many years we as humans were able to coexist relatively peacefully and then looking at today's picture of the planet Earth as our new perspective and focus must create new brain connections and appreciation.
Thank you for all your inspiration and for sowing the seeds of peace, love and nurturing relationships!
With love, Judit
---
Pictures
Thank you, dear Linda Hartling, for sharing this poster with us, which you saw on September 14, 2016, in the B Reactor at the Hanford Site, near Richland, Washington, which was the first large-scale nuclear reactor ever built. The project was commissioned to produce plutonium-239 by neutron activation as part of the Manhattan Project, the United States nuclear weapons development program during World War II. The B Reactor was the world's first plutonium production reactor.
The poster says: "Security is an individual responsibility: be an individualist."
Thank you, dear Linda, for thinking of my reflections on how the security dilemma has been "individualized." The security dilemma is a term used by international relations experts to describe a dilemma of mutual mistrust that states are caught in. Ruling elites of states are the ones to "manage" this dilemma, it defines "Realpolitik," meaning that there can be no trust, since an ally may turn into foe over night. This poster invites every citizen to share it. While states cannot escape the security dilemma as long as the world is divided, citizens can overcome it among themselves, they can learn how to nurture trust. If they learn to foreground mistrust instead, the inner cohesion of society is in danger.
Thank you, dear Linda, also for sharing your key insights with us:
In 1943 the military took over a piece of land in Washington State that is half the size of the state of Rhode Island, displacing 1,500 local and indigenous people.
They picked the side next to the Columbia River because they needed water that was plentiful and pure. The Columbia River flows between Oregon and Washington State through the largest populated city is Portland, Oregon. This article describes the contamination problem associated with this project today.
45,000 people were brought in to build the reactors and other buildings in support of this project, building other reactors and other buildings at the site.
The workers did not know exactly what they were working on. Only those at the very top knew that they were developing the fuel for a nuclear bomb.
Even the scientists didn't know much about what would happen with their reactor. It was like a big science experiment.
B Reactor created the plutonium for the bombing of Nagasaki.
I found it deeply troubling that there were no pictures of the destruction of caused by the bomb in the building or on the tour (out of sight, out of mind).
The American people are paying 2 billion dollars a year for 25 years to clean up this site.
The tour through the reactor emphasized the accomplishment of American engineering, in competition with German engineering at the time. The construction of the reactor took 11 months.
I wish that this had been a tour to remind people "never again," but it wasn't.
• Please click on the picture above to see it larger.