Dear HumanDHS Friends
Healing and Rebuilding Our Communities (HROC) in Burundi
http://www.acrgny.org/events?eventId=492523&EventViewMode=EventDetails
Adrien Niyongabo, who has dealt with unthinkable, cataclysmic events in his country, will speak to us of his experiences with the organization, Healing and Restoring Our Communities in… Continue reading →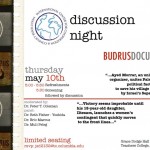 AMARC participates in panels and seminars on legislation and the right to communicate, obstacles to freedom of expression regarding the ownership, use and access.
May 2nd from 9h to 12h, Film Library/Cultural Center in La Moneda. Plaza de la Ciudadanía… Continue reading
The TC Clinical Psychology Program
Colloquium Speaker Series
presents
May 3rd Colloquium
Dr. Ani Kalayjian
Board Certified Expert in Traumatic Stress
Fellow of New York Academy of Medicine
President, Association for Trauma Outreach & Prevention, (ATOP) Meaningfulworld
The following message reached us from our friend Kamran Mofid:
Building Sustainable Future Needs More than Science
"Because human decisions and behavior are the result of ethics, values and emotion, and because sustainability directly involves our values and ethical concerns,… Continue reading →
Dear HumanDHS Friends
This is an invitation to join us at ACR-GNY's Eleventh Annual Conference. Spend the day learning and participating in resourceful workshops and training sessions, meeting and sharing ideas with other mediators, arbitrators, facilitators, advocates and ombudsmen, and… Continue reading →
Dear all,
Please find the  invitation to  the 2012 IPRA Conference  in Japan:
___________________
Present your work and join the conversation at the 2012 IPRA Conference in Japan!
November 24-28, 2012
Deadline for proposals: May 1, 2012… Continue reading →
Dear HumanDHS Friends
New Frontiers for Peacebuilding: Hybridity, Governance, and Local Agency, 13 – 14 September 2012
Hosted by Humanitarian and Conflict Response Institute (HCRI) The University of Manchester
This conference inaugurates a new academic journal, Peacebuilding, and a new… Continue reading →