| | |
| --- | --- |
| A world without humiliation dignifies us all! | |

Greetings!



It has been an exciting year for the HumanDHS network!

This edition of

"Take a Look"

is a summary of our latest activities and upcoming events. We hope it will inspire and encourage your involvement with the HumanDHS community!

We are especially looking forward to welcoming network friends to our upcoming

Workshop on Transforming Humiliation and Violent Conflict,

December 9-10, in New York City!

Wishing you a world of equal dignity for all!

Evelin and Linda

Founding President Evelin Lindner, MD, PhDs
Director Linda Hartling, PhD


Please let us remind you:

HumanDHS is a global transdisciplinary fellowship of concerned academics and practitioners who strive to promote dignity and transcend humiliation. We wish to stimulate systemic change, globally and locally, that allows mutual respect and esteem to take root and grow, thus ending humiliating practices and breaking cycles of humiliation throughout the world!

Celebrating Dignity and Peace in Istanbul!


BRAVO to everyone who contributed to the
15th Annual Conference of HumanDHS
in Istanbul, April 28-30th, 2010!

The conference was a shining example of mutually dignifying, collaborative action! Network members from more than 14 countries joined us to co-create a truly memorable experience! All the presenters introduced topics that inspired thoughtful and stimulating dialogue about how equal dignity leads us to greater "Peace in Our Hearts, Peace at Home, Peace in the World."



A special thank you goes to our remarkable host, organizer, and convener,


Dr. Hayal Köksal

!

Her work coordinating, facilitating, and finding sponsors for this program was absolutely stunning! She is a genius of "relational-cultural bridge building," making everyone feel energized and connected throughout the program! Read more.

Next year we will be hosting the 17th Annual HumanDHS Conference

,

"Enlarging the Boundaries of Compassion," at the National Peace and Conflict Studies Center in Dunedin, New Zealand, August 2011! We hope you can join us!


You're Invited! Transforming Humiliation and Violent Conflict - NYC!

2009 Workshop on Humiliation and Violent Conflict

We are looking forward to welcoming everyone to the
2010 Workshop on Transforming Humiliation and Violent Conflict,
December 9-10, 2010, at Columbia University.
This special workshop provides practitioners, researchers, activists, students, and others an opportunity to engage in dialogue to examine the powerful link between humiliation and conflict. Our roundtable discussion groups have filled quickly this year, but we gladly welcome all who would like to participate as supporters. Please kindly email requests to:
workshops@humiliationstudies.org
.
The entire HumanDHS network is grateful for the kind support of the Center for International Conflict Resolution
(SIPA)
and the International Center for Cooperation and Conflict Resolution
(
ICCCR)
as part of the Advanced Consortium on Cooperation, Conflict, and Complexity
(AC4)
. Read more.


Introducing Our New Director of Project Development!

Dr. Ulrich Spalthoff
We are thrilled to introduce
Ulrich Spalthoff, PhD
, our new Director of Project Development and System Administration!
During his years in industrial research on optical communication technologies, Uli held various positions at Alcatel-Lucent in Germany and France. He dealt with marketing, technology strategy, and quality and innovation management. His activities as Director of Advanced Technologies included mentoring start-ups and consulting with high-tech telecommunication and semiconductor companies from countries all over the world.
Uli is a member of the
HumanDHS Board of Directors
, the
HumanDHS Global Advisory Board
, the
HumanDHS Global Education Team
, the
HumanDHS Global Core Team
, and the
HumanDHS Global Coordinating Team
. Furthermore, he is the coordinator of the
HumanDHS One Laptop Per Child
project.
Since attending our annual conference in Istanbul, Uli has advanced many new initiatives, including implementing video conferencing, establishing wiki technology for HumanDHS use, upgrading the news section of the HumanDHS website, and providing a new page for the
World Language for Equal Dignity
, featuring the poetry and words of peace linguist, Francisco Gomes de Matos. We are particularly excited about Uli's leadership on our newest initiative, The World Dignity University, a project to

realize the ideal of academic freedom and equal dignity for all.




Great News! New Book Review and 2010 Research Award!

New Book by
Dr. Evelin Lindner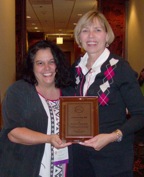 Dr. Stella Kerl-McClain and
Dr. Linda Hartling

Evelin Lindner's new book,

Gender, Humiliation, and Global Security,

is "highly recommended" by Choice, a publication of the Association of College and Research Libraries (ACRL), which is a division of the American Library Association.

Reviewer Michael Uebel described Evelin's latest book as a

"

powerful follow up to her Making

Ene

m

i

es: Humiliation and International C

onflict...it will be indispensable for psychologists, humanists, and political sc

ie

ntists and invaluable to policy makers."

Please visit the HumanDHS website to read more about this extraordinary publication.



Linda Hartling accepted the Association of Creativity in Counseling's 2010 Research Award on behalf of the entire HumanDHS network! The award honors Linda and HumanDHS's creative efforts to develop a relational-cultural approach to study the impact of humiliation while encouraging the development of equal dignity in all relationships.