Newsletter Nr. 20 (December 2012, subsequent to our 20th Annual Conference, our 2012 NY Workshop)
Compiled by Evelin Lindner, in New York City, USA (December, 2012)
(Note: This newsletter is written in American English, since this conference took place in the U.S. In our outside-of-the-U.S. workshops, we often use British English.)
---
---
Pictures
(Important note to our conference particants: During our conferences, we always make an effort to ask for your permission to have your pictures posted on this website. However, you may have overheard or misunderstood our question, or you may have changed your mind since, either in total or for specific pictures/videos, please let us know! Thank you! Since we wish to walk the talk of dignity, it is very important for us to do our utmost in respecting everybody's privacy. We do not wish to gather written permissions from you during our conferences, since we value the building of mutual trust in relationships, and we would like to refrain from contributing to an ever more bureaucratic and legalistic society. Again, thank you so much for kindly holding hands with us in respectful mutuality in this matter!)

December 6-7, 2012, Ninth Workshop on Transforming Humiliation and Violent Conflict, representing the Eighteenth Annual Conference of Human Dignity and Humiliation Studies (HumanDHS), at Teachers College, Columbia University, New York City
The pictures come in three main web galleries:
• Thursday, December 6, 2012, pictures of Day One of the workshop: Please click here to see all the 177 photos of Day One
• Thursday, December 6, 2012, pictures of the Public Event in the afternoon of Day One: Please click here to see all the 56 photos of the Public Event
• Friday, December 7, 2012, pictures of Day Two of the workshop: Please click here to see all the 100 photos of Day Two
• Please see a snapshot from https://twitter.com/ related to #dignism, retrieved on December 13, 2012, from https://twitter.com/search/realtime?q=%23dignism&src=typd.
Morton Deutsch is the honorary convener of our workshops. He is the founder of the International Center for Cooperation and Conflict Resolution (ICCCR), our host at Teachers College, Columbia University, New York City. In 2009, we celebrated his influential, important, and eminent life and life-work with the first life-time award of the HumanDHS network.
Please click on the picture above to see it larger.
Pictures of all of Day One of the workshop, Thursday, December 6, 2012.
• Please click on the picture above or here to see all the 177 photos of Day One.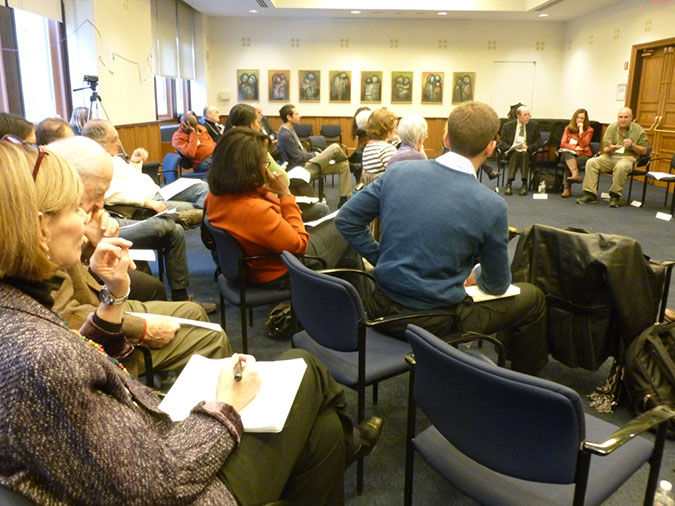 Round Table 1 on Day One of our workshop, Thursday, December 6, 2012.
• Please click on the picture above or here to see all the 177 photos of Day One.
Phil Brown led the Moving into Action session on Day One of our workshop, Thursday, December 6, 2012.
• Please click on the picture above or here to see all the 177 photos of Day One.
Public Event on Day One of our workshop, Thursday, December 6, 2012.
In the spirit of our motto of Unity in Diversity, the evening began with Fred Ellis and his children, singing songs from many cultural backgrounds.
• Please click on the picture above or here to see all the 56 photos of the Public Event.
Pictures of all of Day Two of our workshop, Friday, December 7, 2012.
• Please click on the picture above or here to see all the 100 photos of Day Two.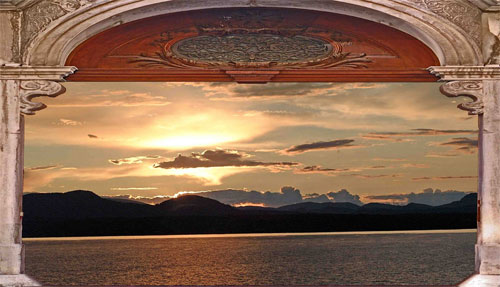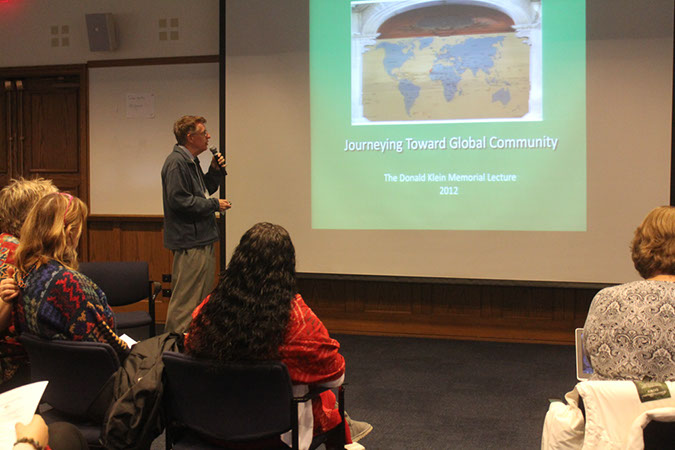 Michael Britton gave the Don Klein Memorial Lecture on Day Two of our workshop, Friday, December 7, 2012.
Michael uses Don's metaphor of a scrim, a transparent stage curtain, where one believes that what one sees is reality only as long as the light shines on it in a certain way: see Don's explanation.
• Please click on the picture above or here to see all the 100 photos of Day Two.
Round Table 2 on Day Two of our workshop, Friday, December 7, 2012.
• Please click on the picture above or here to see all the 100 photos of Day Two.
Michael Perlin received the HumanDHS Life Time Award on Friday, December 7, 2012, on Day Two of the 2012 Workshop of Humiliation and Violent Conflict!
• Please click on the pictures above or here to see all the 100 photos of Day Two.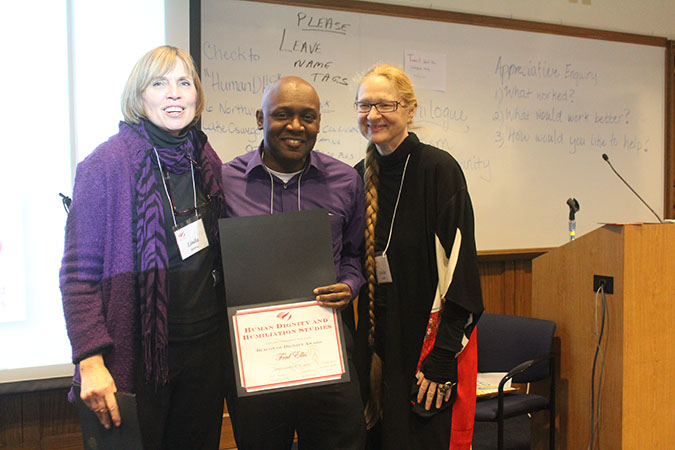 Judit Revesz, Fred Ellis, Rick Slaven, Beth Fischer Yoshida, Claudia Cohen, Peter Coleman, and Maggie O'Neill were honored by the Beacon of Dignity Award.
• Please click on the picture at the top or here to see more photos of Judit's award ceremony during the Public Event on Day One of the workshop.
• Please click on the pictures at the bottom or here to see all the photos of Fred's, Rick's, Beth's, and Maggie's award ceremonies on Day Two.
Round Table 3 on Day Two of our workshop, Friday, December 7, 2012.
• Please click on the pictures above or here to see all the 100 photos of Day Two.
Closing our workshop on Friday, December 7, 2012.
• Please click on the pictures above or here to see all the 100 photos of Day Two.
December 5, 2012 Board meeting with our dear Morton Deutsch.
Please see:
• Ulrich Spalthoff: Summary of my activities 2012, HumanDHS board meeting Dec 5, 2012.
Please click on the picture above or here to see more photos.
December 5, 2012 Evelin's book talk: A Dignity Economy.
Please click on the flyer to see it larger.
Please click on the top right picture above or here to see more of the pictures that Anna Strout took.
Please click on the bottom picture or here to see more of the photos Mariana Vergara took.
Please see also the video created by Hua-Chu Yen.
December 8, 2012, post-workshop gathering with dear Mariana, Anna, Erin, and Karen, then with Judit and Ikhlaq, and with Zehlia with her friend.
Please click on the pictures above or here to see more photos.
---
Dear Friends!
We had a wonderful workshop in New York City! It was titled:
2012 Workshop on Transforming Humiliation and Violent Conflict
(representing the Twentieth Annual HumanDHS Conference)!
Thanks!
May Linda and I express our sincere gratitude and appreciation to all of you who co-created our 2012 Workshop on Transforming Humiliation and Violent Conflict representing the Twentieth Annual HumanDHS Conference! You ALL contributed so that our workshop became a unique and exiting experience!

We would like to thank Morton Deutsch, our honorary convener, Peter T. Coleman, Claudia E. Cohen, Founder, Director, and Associate Director of the International Center for Cooperation and Conflict Resolution (ICCCR) at Columbia University and their wonderful team, together with our other generous host Jean-Marie Guéhenno, who is the successor of Aldo Civico, and Andrea Bartoli as Director of the Center for International Conflict Resolution (CICR), and member of the Columbia University Conflict Resolution Network (CU-CRN), now AC4. We also wish to give special thanks to Beth Fisher-Yoshida, Academic Director of the Master of Science Program in Negotiation and Conflict Resolution at the School of Continuing Education at Columbia University.

We would furthermore like to express special thanks to Philip Brown and Michael Britton, and to Rick Slaven, Tonya Hammer, Dee Sloan, as well as to Adriano Sverko, Tijana Milosevic, and Anna Strout, who so wonderfully helped to keep our workshop in shape, and documented the entire conference. Tonya Hammer kindly accepted our invitation in 2010 to lead the organizing team of this workshop. Rick Slaven did not just take care of our finances, he also always creates a unique atmosphere of humor, modeling our motto of "taking ourselves lightly, even when we take our work seriously." Thank you, dear Phil, Mike, Rick, Tonya, Dee, and Adriano, Tijana, and Anna! We are overwhelmed by the generous support that you extended and would like to express our deep gratitude!

Thank you, dear Uli for drawing our attention to Web Video Rules!

As always, our very special thanks go to Linda M. Hartling for setting the frame of appreciative inquiry in and Donald Klein's spirit.

Our warmest thanks go furthermore to our moderators Tonya Hammer, Beth Fisher-Yoshida & Philip Brown, and David Yamada & Roberta Kosberg!

May we end by thanking the contributors to our Public Event on the afternoon of Thursday, December 7, for their wonderful inspiration! First came Fred Ellis with his pupils, then came Charles Eisenstein and shared his thoughts and experiences on sacred economy with us, and Sohrab Saadat rounded up the evening with his amazing saxophone play! THANK YOU for your amazing gifts!

Finally, Michael Britton moved us all again deeply on Friday morning with his Don Klein Memorial Lecture that he gives in the place of Don's originally planned lecture titled The Humiliation Dynamic: Looking Back... Looking Forward. Don showed us how to live in awe and wonderment. We will always need your wisdom, dear Don!

Michael Perlin received the HumanDHS Life Time Award on Friday, December 7, 2012, on Day Two of our workshop! Let us celebrate him and his extraordinary life-work, and express our gratitude to him for his invaluable continuous support to our HumanDHS initiative!

Furthermore, we congratulate Judit Révész to her Beacon of Dignity Award! She is a core pillar of our work since many years. We were able to build on the work she did for our first workshop in 2004, and without her continous support throughout all the years since 2001, our work would not be possible. She untiringly guards our Contact page!

We congratulate also Fred Ellis, Rick Slaven, Beth Fischer Yoshida, Claudia Cohen, Peter Coleman, and Maggie O'Neill to their Beacon of Dignity Awards!

Please join me in expressing deep gratitude to Linda Hartling. Without her wisdom, love, care, and huge investment of time since 1999, when we met via email, and then, in full intensity, since our first conference in 2003, our network and our conferences would not be there. Please celebrate Linda's leadership! In November 2008, Linda relinquished her administrative responsibilities at Wellesley College to devote more time in service of HumanDHS and she is our new HumanDHS Director! (Evelin remains the HumanDHS Founding President). A big welcome to you, dearest Linda! Rick and Linda moved across the North American Continent and found a physical home for the Pacific Rim Branch of HumanDHS and the first HumanDHS Dialogue Home in Portland, Oregon. Everyone is invited to visit! And please send Linda all of your relevant books to be included in the HumanDHS library!

Now, we would like to extend a special thanks to those of you who completed the Appreciative Enquiry note cards at the conclusion of the workshop. As Linda explained, this information is important for us as we begin to reflect on what we could do differently next year and in future years. Your willingness to participate in this process is very important for us, as we very much want this workshop to continue to be a collaborative effort. We extend our warm thanks to each of you for being part of this co-creation.

Please be reminded that our events differ from traditional conferences where speakers are invited and funded by organizers and audiences pay a registration or entrance fee to listen to the speakers. In other words, usually, organizers gather speakers who "market" their knowledge to an audience. We wish to transcend the separation between speakers and audiences and nurture our gatherings in the spirit of what we call dignilogue. There is no monetary remuneration involved in our events. Participants join the workshop because they wish to share their work, their experiences, and their insights. The main point of our work is the nurturing of a global dignity community. Our events are a labor of love, as is everything else connected with our network. None of us is being paid, including the organizers, there is no fundraising and no profit involved. We share the minimal overhead in a dignity economy approach by everybody contributing according to ability.

We could have had many more participants and unfortunately had to say "no" to many of you who wrote to us and wished to participate. We would like to express our regret to all of you who did not have the opportunity to participate. We will try to broaden our activities in the future. Your help is welcome! Please bear with us and give us your support so that we can grow in constructive ways!

Our workshops are upon invitation. You are warmly welcome to contact us if you wish to join us next year in this workshop (December 5-6, 2013). Please do this as early as you can, particularly if you feel that you would like to share your experience and work in one of our dignilogue round tables. The round tables are often filled up by July. You can always participate as a supporter of the round tables or as observer. Also in that capacity you can actively participate, for example, by using the two empty chairs in each round table. We usually recommend newcomers to be with us as supporters and observers first, so that they can familiarize themselves with the format, and envision to be part of a round table in future workshops.

A very very warm thank-you to you all!

Evelin & Linda, on behalf of our entire network.

PS: We would need your permission to place pictures and videos on our website. Please let us know if you would not wish to be included, thank you very much!
---
Announcements
Announcement of our Latest News!
---
What Is the Aim of Our Work?
Please read more in newsletter12.
---
Our World Dignity University
HumanDHS is primarily grounded in academic work. We are independent of any religious or political agenda. However, we wish to bring academic work into "real life." Our research focuses on topics such as dignity (with humiliation as its violation), or, more precisely, on respect for equal dignity for all human beings in the world. This is not only our research topic, but also our core value, in line with Article 1 of the Human Rights Declaration that states that every human being is born with equal dignity (that ought not be humiliated). We agree with Shibley Telhami, Anwar Sadat Professor for Peace and Development, who advocates the building of bridges from academia as follows, "I have always believed that good scholarship can be relevant and consequential for public policy. It is possible to affect public policy without being an advocate; to be passionate about peace without losing analytical rigor; to be moved by what is just while conceding that no one has a monopoly on justice." We would like to add that we believe that good scholarship can be relevant and consequential not only for public policy, but for raising awareness in general.

The World Dignity University initiative is strongly committed to:
• making sure the development of the WDU is globally inclusive
• avoiding duplication of the achievements of others who have already worked with similar issues.
Rather than competing with existing institutions, our goal is to join hands in the spirit of mutual respect and equality in dignity to create something much more powerful than what we would accomplish if we worked independently. We already have connections with highly regarded academic institutions through our network of scholars on our Global Advisory Board.
• respecting unity in diversity: The views expressed on this website, as in any of the HumanDHS publications, do not represent any official HumanDHS position. All HumanDHS publications present the views and research findings of the individual researchers, educators, and authors, with the aim of promoting the development of ideas and discussion about major concerns of human dignity and humiliation studies and related fields.
• diverse online courses/seminars/talks/workshops will be shaped by the members of our various teams and boards, particularly our Education Team members, with their diverse expertise and approaches, supplemented with face-to-face gatherings, for example, at our annual meetings.

Please see more on www.humiliationstudies.org/education/education.php, and the Pdf file of the description of the World Dignity University initiative.

Our overall aim is to invite all educators of this world who share our values to contribute with topics related to dignity, for lectures, courses, seminars, workshops. Students are invited to contribute with their ideas and wishes for topics. Learning is reciprocal. A student can also teach and an educator can also learn, and we invite everybody to be both.
We envisage building two data bases of video clips, one collection of topics on offer, and another for topics sought. Our overall aim is to nurture our World Dignity University initiative as a growth process, as an invitation into a movement that emerges, thus manifesting our core principle of unity in diversity also through the way we go about and the structure of our work. Sometimes, we also use the metaphor of a tree.
In other words, we would be extremely happy if all of you who read these sentences now, and who share our values, would feel inspired to contribute to the World Dignity University initiative! We would love you to create similar video dialogues as you see here. It would be wonderful to have your reflections on why you think dignity is important and what you could contribute to a World Dignity University!
We envisage to proceed as follows:
1. Let us assume you wish to contribute with a topic to the WDU initiative, and you present it in a video clip.
2. Let us assume that ten students from all over the world click on your video, indicating that they find your theme interesting.
3. This motivates you to give a lecture of one or two hours, having it video-taped, so that we can place it on the World Dignity University website.
4. The next step would be that you develop a seminar/course/workshop on your theme. You could help your students to gather for an initial face-to-face meeting, followed by one or two semesters of online teaching, and a final face-to-face meeting (you might want to help your students find the funding for their travels, or, if this is not possible, those who cannot afford the travel cost could participate via video). In that way, unity in diversity will be expressed through manifold themes and manifold ways of teaching and learning.
5. For those students who wish to work for a degree, please see Ragnhild Nilsen's experience.

---
Messages from YOU

(with the authors' permission, listed chronologically)
Dear participant in our workshop! You contributed to bringing dignity and love into our workshop, and due to your presence, it was an unforgettable experience! Your contributions spoke to the need to begin with ourselves if we are serious about bringing more dignity into the world. The motto of unity in diversity provides a path toward dignity, and we would therefore like to invite you to send us your reflections in connection with our workshop. We will place them here, just below this paragraph, so that we all can see the diversity of impressions that emerged, and the diversity of ways in which we touched each other. Thank YOU!
Erin Hilgart wrote on Facebook (on December 6, 2012):
Is the 'end of the world as we know it' really such a bad thing? When the way we have been living becomes unsustainable from an economic, environmental, and humanistic perspective... there is an opportunity to create something new. I'm hopeful about what we can create next. Inspired by Evelin Lindner who is speaking about her work and her new book, "A Dignity Economy."

David Yamada in his blog:
Dignity work December 10, 2012
By David Yamada
Dignity work. In a blog about work, that's the best way I can tag the array of projects, initiatives, and passions that drew people from around the world to the annual Workshop on Transforming Humiliation and Violent Conflict, sponsored by the Human Dignity and Humiliation Studies Network (HumanDHS) and hosted by Columbia University, Teachers College, in New York. This year's workshop ran last Thursday and Friday.
About HumanDHS:
HumanDHS is a unique association. Here's a self-description from the website: "We are a global transdisciplinary network and fellowship of concerned academics and practitioners. We wish to stimulate systemic change, globally and locally, to open space for dignity and mutual respect and esteem to take root and grow, thus ending humiliating practices and breaking cycles of humiliation throughout the world. We suggest that a frame of cooperation and shared humility is necessary – not a mindset of humiliation – if we wish to build a better world, a world of equal dignity for all."
Untypical:
In other words, HumanDHS is not your typical academic assemblage. For example, in the Round Table in which I participated, we heard presentations about sojourns to the Amazon rainforest, conflict resolution on large and small scales, America's aging population base, and the criminal justice system. Theory, research, and action all play important roles at this gathering and often come together in individual talks. A group ethic of respectful exchange frames the event. On topics as difficult as, say, the impact of required English education on the preservation of traditional languages in Africa, emotions can run strong. It may take an effort, at times, to keep certain expressions in check and to listen to others amid earnest discussion. Nevertheless, such attempts are far preferable to imposing a cloak of superficial dialogue that dodges hard topics, or allowing exchanges to disintegrate into angry barbs tossed back and forth.
Group hug:
Yes, there's a group hug at the end, but we shouldn't dismiss this as a standard-brand "feel good" event. Not, for example, when a participant shares a personal story of childhood sexual abuse. You see, the founders of HumanDHS included the word humiliation in the group's name for a reason: You can't affirm human dignity without facing what's uncomfortable and painful. And yet it does feel good to be a part of this group. These gatherings are life-affirming in a world where the embrace of human dignity remains too rare an event.
*** Notes:
Evelin Linder, Linda Hartling, Tonya Hammer, and a crew of other dedicated volunteers deserve our thanks for making the workshop such a meaningful gathering. Congratulations to friend and colleague Michael Perlin (New York Law School), who received the HumanDHS Lifetime Achievement Award at the workshop. Michael is a leading authority on mental disability law and is among a core group of law professors who extended a warm welcome to me when I became involved with the therapeutic jurisprudence movement.
For more photos of the event by the ever present (but never intrusive) camera of Anna Strout, go here and scroll down to the links.

Tijana Milosevic (sent on December 10, 2012):
I enjoyed the conference very much and am very happy to have been able to attend. Meeting
all the people in the network was a real privilege. You are most welcome I am happy to have been able to help and I hope those videos look ok...
Hugs,
Tijana

Maria Alagic (sent on December 10, 2012):
Please see a snapshot from https://twitter.com/ related to #dignism, retrieved on December 13, 2012, from https://twitter.com/search/realtime?q=%23dignism&src=typd.

Mara Alagic (sent on December 11, 2012):
Dear Evelin, Thank you for sharing your ideas and wisdom and thank you for gathering us as part of your global family. As always, the workshop experience was reenergizing and inspiring. Hugs, Mara

Talia Shafir (sent on December 10, 2012):
Dear Evelin, Thank you so much for your inspiration and kind support. It is the best of gifts to know that there are people who care to the extent that you and your colleagues do about seeking out the humanity that exists in the universal expression of love and hope. It was an honor and a privilege to not only address this gathering of like-minded, concerned souls but to bear witness to the good works individuals do for others in the most unlikely of places often with limited resources. I remain touched by the sparks of all the ildsjeler that gathered, each ablaze with his and her own passion for the value of and respect for life. What you and your colleagues do around the world is truly in the best tradition of those who tend the sacred fires to ensure that the flame of human dignity burns brightly through the darkest of storms. Thank you for the opportunity to join the panel and meet you. I wish you a wonderful holiday season and hope that our paths will cross again. With loving gratitude in return, Talia.

Debidatta Aurobinda Mahapatra in his blog (sent on December 11, 2012):
A World without Humiliation
A world without humiliation: This is the message I come across whenever I attend the Dignity and Humiliation workshop, organized by Evelin and Linda – two ennobled persons, dedicated to the cause. The same message I came across when I participated in workshop on 6th and 7th of December 2012 at Teachers College, Columbia University. It may be a dream to talk about a world without any humiliation – in body, mind and soul – but it is a dream to be realized. The message comes across in the workshop venue; all participants are filled with dignity, as if every participant is a torch bearer of dignity. Perception changes when one sees the world through this Dignity-prism, the world no longer looks like a scattered mass of collectivities, but a blending together of differences in a new harmony. It is like differences of race, religion, color and caste are not divisions or dividing walls against each other, but they are rather different manifestations of same One Truth. The One Truth is: Human being is first of all a human being, the other qualifications come later. It is beyond all facades or ornamentations – which we individuals so much espouse and give importance in our lives – lies our true dignity that is humanity bare and pure. How does our view of the world changes when we think this way! When I think the world is mine, and everything in the world is mine, the rich and poor of the world are mine; that not only ennobles me and my thinking, but also makes me responsible to make the world a better, dignified place for all of us.
It is imperative that we must involve ourselves in Dignilogue. We have monolgues and dialogues, but it is time that we have Dignilogues. Dignilogue, as I comprehend, implies multifaceted dialogue towards reaching a Dignity society, what we now call Dignicommunity. The world can be a Dignicommunity, when every citizen of the world sees things through the Dignity-prism. What is Dignity? For me Dignity implies thinking beyond self and transforming individual self to become a universal self, in which individual interests become universal interests, there remains no barriers between the individual and the universal. In that sense imbibing Dignity may become a difficult enterprise at the beginning, but that becomes a reality with continuous aspiration and practice. Do we not say practice makes a man perfect? Similarly, when we think every moment in terms of Dignity, we not only dignify our lives, but also contribute to the world and make it a better place to live in.
In my scheme of a dignified world, I consider three pillars or three stairs to realize a Dignicommunity. As I have worked in conflict-prone areas in South Asia and seen violence among communities, I increasingly realize in order to transform conflicts around the world we need a three-pronged Dignity approach. First, every individual must bring Dignity into their thinking and practice. It is like before taking any action, or before indulging in any activity, the individual must think – does this thinking or action help my inner soul and the outer world? If the answer is positive, then the individual is realizing Dignity in their own life. If the answer is negative, then the individual is moving away from Dignity. Once the individual realizes Dignity in her own life, she must apply this principle to the greater individual that is the community of her own. We individuals live in communities, whether it is a religious community, a professional community, or a music community. We must impart our realized Dignity to our immediate community in a loving, harmonious way, without any pressure or compulsion. Because the consort of Dignity is love, and love never forces itself. If we force Dignity, it will be like a rigid religion. Once the individual imparts Dignity in the community, then she must aspire to impart the same value to the greatest community, the world. It is like widening the Dignity-individual in a world scale. It is not an impossible dream, but a practical possibility. When every individual, every community realizes Dignity, then we have reached our ultimate goal – Dignicommunity, with all positive things of life, without any humiliation and suffering.
I must thank Evelin and Linda, all participants in the workshop, and also all the well-wishers and apprentices of Dignicommunity for widening our network. It is rightly said the ideas of the present generation become the reality in the next generation. But, I go a step further. The idea of Dignity has already begun to penetrate lives of individuals and communities across the world in this generation itself.

Alisa Klein (sent on December 11, 2012):
Dear Evelin, Thank you for that lovely note, for who you are in the world, and for putting together with Linda and Tonya that amazing workshop last week. The diversity of voices, the work people are engaged in, and the depths of compassion and kindness expressed throughout the two days were all astounding, motivating, reassuring, and deeply touching. I feel very lucky that six years ago you approached me at the disaster conference in Boston where we met and invited me to be a part of the HumanHDS network and family. I look forward, over the coming years as my career shifts and allows for more time and space, to being more connected and involved in the work. I hope you have lovely, peace-filled holidays, and that you continue to flourish and thrive in 2013. With appreciation, Alisa

Anna Strout gave suggestions for next year's Moving into Action session (sent December 17, 2012):

- A quiet room with no ambient noise and no audience
- Allocate enough time for proper set up in between each dialogue
- Provide guidelines for how to structure the dialogue so viewers gain valuable information/tools from watching (ex., introductions, key topic stated, background given, best practices shared, reflection or call to action)
- 3 minutes max for each taped dialogue
- Good, even lighting a must (since 3 point lighting set up expensive)
- 2 chairs in front of a table where people are facing each other and engaging in dialogue, instead of looking at the camera. This allows for the camera person to capture arm gesticulations but avoid humiliating body positions.
- Table placed in front of clean, uninterrupted wall as background or create a relevant set/ backdrop (topical books, banners that fit within the frame) *can also use props (support materials, tools of the trade)
- It's helpful to have 2 cameras on 2 tripods: a steady camera with a well framed wide angle shot of both people; one camera to take reaction shots for each person or to zoom in for cutaways
- 2 lavalieres, one for each of the interviewees, and a set of headphones for the camera person
- If time allows, cut dialogue with photographs, graphics and images that illustrate key concepts

Uli Spalthoff draws our attention to Web Video Rules

Maggie O'Neill (sent on December 18, 2012):
Thank you to Evelin, Linda, Rick, Morton and Beth for another amazing HDHS conference. Despite our subject matter I always leave feeling uplifted and hopeful because of the work taking place across the globe and the energy and zest of colleagues doing this work. Thanks also from the bottom of my heart for the Beacon of Human Dignity award! I feel very honoured.
I will also not forget the message shared by Garry Davis in his lifelong quest for global citizenship and a world without borders having handed in his passport to the American Embassy in Paris in 1948, supported by Camus and Breton!
Warmest greetings to all, Maggie

Garry Davis: World Citizenship, World Passport, World Presidency, World Service Authority, World Government of World Citizens, World Government House
Wikipedia: Sol Gareth "Garry" Davis (July 27, 1921 – July 24, 2013) was an international peace activist who created the World Passport, a fantasy travel document based on his interpretation of Article 13(2), Universal Declaration of Human Rights and on the concept of world citizenship. Previously Davis had worked as a Broadway stage actor[1][2] and served as an American bomber pilot in World War II.[3] He was a devoted World Federalist, although a consistent critic of the World Federalist Movement. (quoted from Wikipedia).
Our dear Garry Davis went into hospice care on 18 July 2013, and died six days later. We mourn him in deep admiration for his life work and resonate with every word in Rene Wadlow's lovely reflection on Garry Davis: « And Now the People Have The Floor »
See also:
• World Citizen Radio with Garry Davis interviewing Evelin Lindner, Global Radio Alliance, Sunday, November 11, 2012
• Garry Davis's Speech at the 2007 Workshop on Humiliation and Violent Conflict (2007)
• Garry Davis and Mariana Vergara in Dialogue on the World Passport
Mariana Vergara and Garry Davis entered into dialogue on the World Passport project at the 2012 Workshop on Transforming Humiliaton and Violent Conflict at Columbia University in New York:


Please click on the picture above or here to see all the 177 photos of Day One of the 2012 Workshop

• Please see also The World Is My Country, and the documentary on Garry Davis by Arthur Kanegis:

---
Welcome Again!
We would like to end this newsletter by thanking you again for all the wonderful mutual support. You contributed so generously, therefore let us give our warmest thanks to ALL OF US! We very much look forward to our upcoming two conferences in 2013!

Please let us know as early as you can if you would like to join us, particularly if you wish to be part of a round table in December 2013! Thank you!

In the meantime, please be warmly invited to our next HumanDHS conference in Cape Town, South Africa, at the end of April 2013!

Linda & Evelin, December 2012