| | |
| --- | --- |
| Take a Look! | November 2009 |
| | |
| --- | --- |
| A world without humiliation dignifies us all! | |

Greetings!

We warmly welcome you to

"Take a Look,"

the new e-publication of the Human Dignity and Humiliation Studies network (HumanDHS; http://humiliationstudies.org).



Please let us remind you:

HumanDHS

is a global transdisciplinary fellowship of concerned academics and practitioners who strive to promote dignity and transcend humiliation. We wish to stimulate systemic change, globally and locally, that allows mutual respect and esteem to take root and grow, thus ending humiliating practices and breaking cycles of humiliation throughout the world.

Our website is being accessed by up to 40,000 people per year from 180 countries. The dramatic growth of the network has inspired us to find a new, eco-friendly, format for sharing the latest news.

This message is intended to give you an opportunity to personally reconnect with us. Since this is a new endeavor, we warmly invite you to send us your comments.

We hope you enjoy this fresh look at our collaborative efforts! Most of all, we hope this publication will inspire and encourage your next steps of involvement with the HumanDHS community!

Good News! Evelin Lindner Accepts 2009 Peace Award for HumanDHS




On the 21st of June,

Fo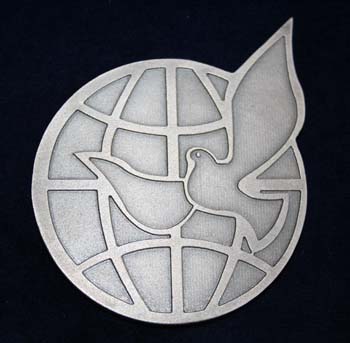 unding President Evelin Lindner accepted the

Norwegian 2009 "Prisoner's Testament Peace Award"

on behalf of the entire HumanDHS network!

Each year,

Aktive Fredsreiser - Travel for Peace

- awards the

Fangenes Testamente (The Prisoner's Testament)

to spotlight individuals and organizations that have contributed to peace-making processes and to conflict resolution.

The award is given to those who have shown exceptional efforts to convey knowledge of conflict or peace-building processes in a way that is understandable to most people. The desire and hope is that the award will inspire and encourage others to share their knowledge examining sources of conflict and conflict resolution.



The HumanDHS network joins Evelin Lindner in celebrating this special recognition!

Read more...



Upcoming 2009 Workshop on Humiliation and Violent Conflict - New York City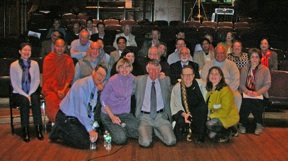 We are looking forward to our
2009 Workshop on Humiliation and Violent Conflict!
This workshop is the
14th Annual HumanDHS Conference
and the sixth
Workshop on Humiliation and Violent Conflict
at Columbia University in New York, December 10-11, 2009. It is a continuation of the 2004, 2005, 2006, 2007, and 2008 workshops (photograph from the 2008 workshop).
Since 2004, HumanDHS has invited selected scholars, counselors, conflict resolution practitioners, mediators, teachers, and other professionals for a two-day workshop to explore the interaction between conflict and emotions. In these workshops we probe the role of humiliation in violent conflict and consider new possibilities for effective negotiations, diplomacy, public policy, and social change.
We are pleased to note that this year's program is fully enrolled, yet everyone is warmly welcome to attend the
Public Event, Thursday, December 10, from 5:00-8:00 PM, in the Milbank Chapel at Columbia University, Teachers College.
We are deeply grateful to
Alan B. Slifka
and the
Slifka Foundation
for their generous ongoing support of this program! We also appreciate the special support of
SIPA (
Center for International Conflict Resolution
), and the
ICCCR
(
International Center for Cooperation and Conflict Resolution
) as part of the Columbia University Conflict Resolution Network (CU-CRN).
Our Memorable 13th Annual HumanDHS Conference in Hawaii!

Our
13th Annual Hu
manDHS Conference

, "World Peace through Humiliation-Free Global Human Interactions,"

was unique in that it took place in Hawaii, a nation incorporated into another nation against its will.

The 21st of August 2009 (day two of our conference) marked the fiftieth anniversary of President Dwight D. Eisenhower signing the Proclamation for Hawaii to become a State of the United States. This is a controversial anniversary because native Hawaiians consider the annexation an illegal overthrow of their monarchy. This is another example of anniversary celebrations being perceived as profoundly humiliating by those who were disenfranchised.

Through Kristabelle Munson we had the unexpected privilege of witnessing the solemn chanting marking the date of this humiliation and we met with Yuklin Aluli, Attorney at Law, and Kau'i N. Burgess, both part of the Hawai'i Pono'i Coalition. In addition, Kristabelle introduced us to the captivating music of the Mahalohalo Kolintang Ensemble and the sounds of Hawaiian "slack key guitar," as heard in the healing music of Makana.

The year's conference presentations explored a richly diverse range of topics, including awareness of cultural assumptions, sources of respect, dignity in educational settings, the relational dynamics of humiliation, the humiliation of poverty, creating nonkilling societies, and pathways to peace. Furthermore, the showing of "Money as Debt," a film created by Paul Grignon, stimulated dialogue about the urgent need to transform maligned economic systems that lead to humiliating practices.

A special thank you goes to our host Dharm P. S. Bhawuk, Professor of Management and Culture and Community Psychology, Shidler College of Business, University of Hawaii. We are deeply grateful for his efforts! Also, thank you to the entire HumanDHS community who contributed - in person and in spirit - to this uniquely memorable experience!!

Read more and view the wonderful photos taken by Evelin and others in the HumanDHS Newsletter No. 13!
You are also invited to download a special photo album of conference highlights!



We are looking forward to welcoming many of you to our

Workshop on Humiliation and Violent Conflict in December!

You are also warmly invited to join us for our

15th Annual HumanDHS Conference in Istanbul, Turkey!

Thank you for everything you do to create a world of equal dignity for all!

Linda & Evelin




Human Dignity and Humiliation Studies



We invite you to help us keep improving this new e-publication.
Please send us your comments, reflections, and/or updates about your work.