Thanks to everyone
who joined us to make the
2009 Workshop on Humiliation and Violent Conflict
an enormous success!
The collaborative spirit and energy of all involved exceeded our greatest expectations!
Claudia Cohen,
associate director of the International Center for Cooperation and Conflict Resolution
(
ICCCR)
, warmly welcomed everyone to Columbia University and introduced us to the Advanced Consortium on Cooperation, Conflict, and Complexity
(AC4)
.
HumanDHS Founding President
Evelin Lindner
opened the workshop by presenting her latest formulations of how humiliation continues to generate and intensify conflicts around the world. Director
Linda Hartling
reintroduced the frame of "Appreciative Enquiry," which has become a foundational methodology and philosophy used by the network to encourage dignifying dialogue on difficult topics. These initial talks set the tone for two days of stimulating presentations and thought-provoking discussions throughout the workshop.
The high points of this year's program are too numerous to count! Board Member
Michael Britton
gave a deeply touching presentation in honor of Don Klein in which he analyzed how we must and can exit from the humiliation of current world affairs. Round table presenters enriched the experience of all involved with insights into a stunningly diverse range of
topics
. A new "case presentation" session featured the work of members who are turning innovative ideas into positive action around the world.
This year's
Public Event
began with a conversation with Guest of Honor Queen Mother
Delois Blakely
, Community Mayor of Harlem. This was followed by an outstanding panel discussion that included:
Reinaldo Rivera
, head of the U.S. Justice Department's Northeast and Caribbean Regions' Conflict Resolution Division;
Adenrele Awotona
, founder and director of the Center for Rebuilding Sustainable Communities after Disasters at the University of Massachusetts; and director Francis Mead and assistant producer
Ariel Lublin
who presented the documentary film:
Poisoned Chalice: The UN in Iraq
.
This powerful documentary examined the remarkable resilience and recovery of UN staffers after the 2003 attack in Baghdad, a story lived by Francis Mead who survived this attack.
One of the most memorable moments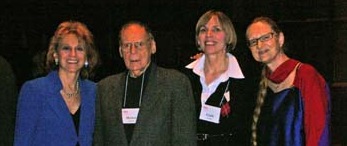 of the workshop was presenting the first
HumanDHS Lifetime Achievement Award
to
Morton Deutsch
, one of the world's most respected scholars of conflict resolution. The ceremony included a video interview of Morton Deutsch introduced by psychologist and popular media consultant
Judy Kuriansky
. It highlighted Morton Deutsch's trailblazing research on cooperation and conflict resolution. The award was a joyous celebration of Morton Deutsch's efforts that have inspired all members of the HumanDHS network!
We are deeply grateful to
Alan B. Slifka
and the Alan B. Slifka Foundation for their generous ongoing support of this program! We also appreciate the special support of the Center for International Conflict Resolution
(SIPA)
and the International Center for Cooperation and Conflict Resolution
(
ICCCR)
as part of the Advanced Consortium on Cooperation, Conflict, and Complexity
(AC4)
.
To see wonderful photos and learn more, please read
Newsletter, No. 14.